How to Transfer Your Current Mobile Number From Jio to Airtel. Airtel provides Mobile Number Portability (MNP) for prepaid and postpaid plans.
How to Port Jio to Airtel
According to the most recent information from the Telecom Regulatory Authority of India (TRAI), Airtel, one of the leading telecom companies in the nation, has outpaced Reliance Jio in terms of new wireless subscribers in October. A wide range of options are available from Airtel, and the company also runs its streaming service, Airtel Xstream. Prepaid and postpaid connections are available, with prices ranging from low to high and basic to feature-rich. Therefore, if you want to migrate from Jio to Airtel, you can use the Mobile Number Portability (MNP) service that Airtel offers.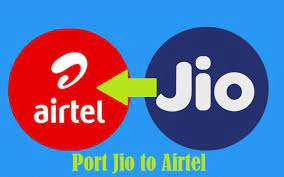 Like other service providers, Airtel makes it simple for customers to switch providers without changing their phone numbers by offering an MNP option. Follow our step-by-step instructions to transfer your current Jio mobile number to an Airtel prepaid or postpaid plan.
How to transfer your Jio to Airtel prepaid cellphone number
If you're searching for a prepaid connection, Airtel's website offers two options for porting your mobile number. The Rs. 297 package includes 100 SMS daily, unlimited talking, 1.5GB of internet per day, and a 28-day validity. You also receive Wynk Music and Airtel Xstream subscriptions with the box. In addition to Airtel Xstream and Wynk Music subscriptions, the Rs. 497 plan includes 56 days of validity, 1.5GB of data per day, 100 SMS per day, and unlimited calling. In addition, Airtel guarantees doorstep KYC service (based on location), same-day delivery of your new SIM, and speedy activation. Take the following actions to transfer your current Jio (or other service provider) number to Airtel:
Go to the Airtel website's main page.
The two plans are located on the page's left side. Decide on a choice that meets your preferences.
On the right is a form that asks for your name, cellphone number, and whether you want to transfer or acquire a new connection.
Verify that the Port is chosen.
Type in your address.
Click "Submit."
Your address and ID evidence must be on hand when your SIM is supplied, as you will be reminded. The Airtel Thanks app also allows you to monitor your new SIM. Simply download the app from Google Play or the App Store, then sign in with your port-in number. Then, you'll have access to live tracking for your new SIM. You may activate the new SIM with the help of the app.
How to transfer your Jio to Airtel postpaid cellphone number
For users wishing to move, Airtel provides two postpaid options. The Rs. 499 plan offers extra perks, including a 1-year complimentary access to Amazon Prime Video, a free subscription to Airtel Xstream, and a free subscription to Disney+ Hotstar VIP in addition to 75GB of data per month, unlimited talking, 100 SMS per day, and other features. You may receive 150GB of monthly data, unlimited calls, 100 SMS daily, and a free add-on connection with the Rs. 999 "For me and my family" package. The same subscription services are also available to you.
To switch to Airtel postpaid, do the following:
Select Buy for one of the two shown plans.
Ensure that the box next to Select Switch to Airtel (with an identical number) is checked.
Type in your name, phone number, hometown, and address.
Click "Submit."
Following your submission, you should get an SMS confirming your request and telling you that Airtel will contact you soon. The following page will remind you to maintain your address and ID evidence and anticipate a call regarding a new SIM.