How to Block and Unblock an ATM Debit Card from an Indian Bank, Nearly all bank account holders today use ATM and debit card services for convenient and speedy banking. Without having cash in your pocket, you can use ATM and debit cards to withdraw money from any ATM or to pay for purchases.
Indian Bank ATM Block
There could be an emergency if you misplaced your debit or ATM card. It is crucial to immediately block it in these situations in order to stop any misuse. You will always have access to an ATM and a debit card if you have an account with Indian Bank.
Indian Bank Debit Card Block
Knowing how to immediately ban an Indian Bank ATM or debit card is important if you want to keep your money secure. Customers of this Bank can ban their ATM or debit card using the following procedures in an emergency: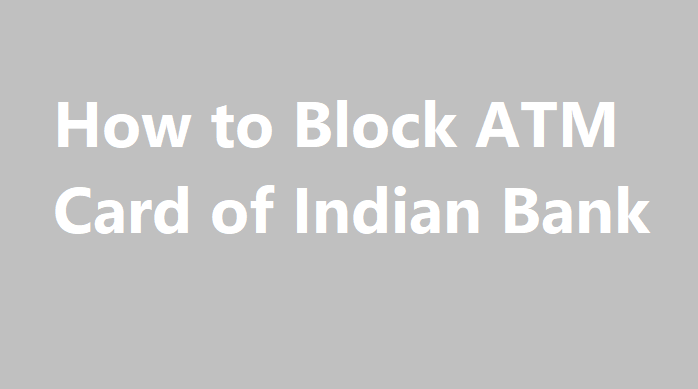 A barrier to internet banking
Customers can have the option of internet banking with Indian Bank. If you have an account with this Bank and use the internet banking service, you only need to apply the following procedure:
Visit the website at https://www.indianbank.net.in:8443/jsp/startIBPreview.jsp for further information.
Choose "Login for Internet Banking" from the menu.
To login, enter your username and password.
Locate the option to control your debit or ATM card.
Choose your account number to make a request to block the ATM card.
Message customer service representatives
Indian Bank is renowned for offering top-notch customer support to assist customers and account holders in an emergency. If you do not use internet banking, you can directly contact customer service representatives to get your ATM or debit card blocked by calling one of the helplines listed below:
044-25279897
044-25279898
044-25279899
044-25279884
Customers can also utilise email to make this request by contacting the customer service providers. Sending an email to atmhotlist@indianbank.co.in will allow you to submit this request using this method. Each account user has access to both of these customer support services 24/7 and they will finish the procedure to block your card using this approach.
Inquire at the bank branch
In order to seek the blocking of an ATM or debit card, customers can also go to the Indian Bank branch closest to them. To send this request to the bank executive, you simply need to fill out the form. They'll personally disable your debit or ATM card. By filing the application for a new ATM or debit card at the bank branch, customers can also request a new card.