How to Fix the "Canada CIC Website GCkey Login Loop"? Loop, CIC Login,
You should delete the browser's cookies and clear the cache. After that, try using your username and password, and Woohoo, No More Language Selection Page Loop.
Even if you use the right ID and password to log in to the CIC/IRCC website, it will sometimes send you to a page where you can choose your language. This is the GCKey Login Loop problem that everyone knows about. If you have problems with your CIC login or can't get into your "myCIC" account, we have a fix for you here. There is nothing wrong with your computer, so don't worry. The trouble has to do with the way the IRCC website is made.
Canada CIC Immigration Website Loop Fix [CIC Login Loop Fix]
Step 1: Open CIC Website in Google Chrome Browser
To open the Google Chrome browser and access the Canada CIC login page, click here. Locate the address bar in the browser and click the little lock symbol next to "canada.ca" and "cookies" to open the address bar and the cookie window, respectively.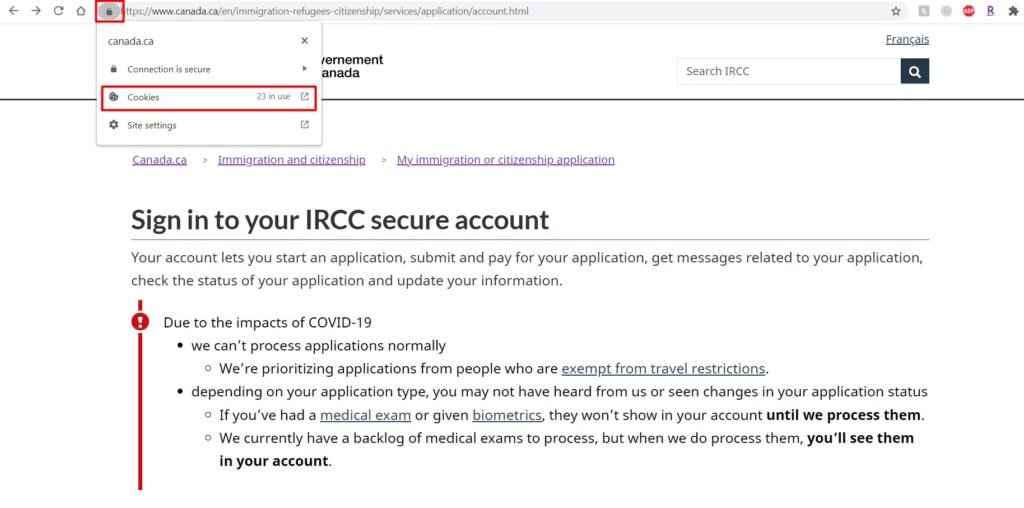 Step 2: Clear Cookies and Cache
Now you must click on each cookie and delete it individually. Empty out the biscuit case.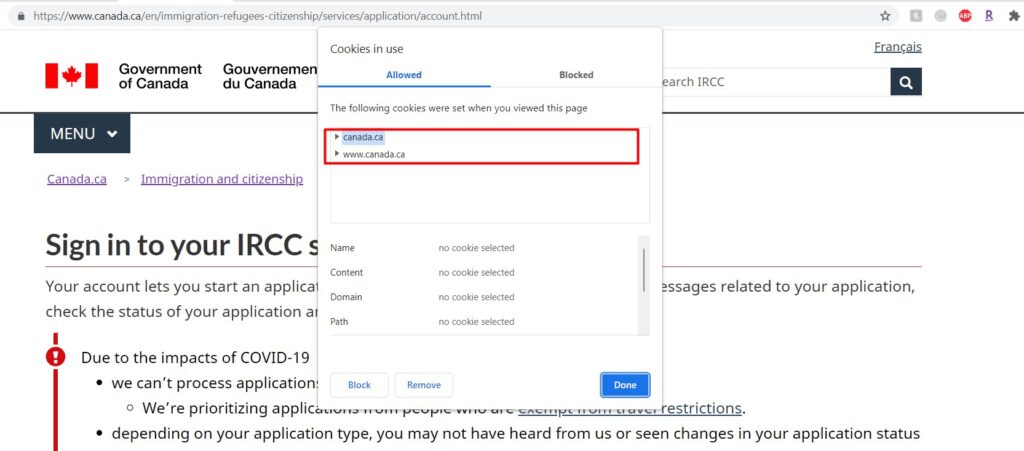 Step 3: Try to Log In with GC Key or With Sign-in Partner
You should now use your ID and password to try to log in. It should now work well. Have fun and good luck!
FAQs on GCkey Login Loop
Is the login and password I use for my GCkey correct?
If the IRCC does not indicate that the User ID or Password that you entered is wrong and instead directs you to the language page, then your User ID and Password are correct. To log in and see your Canada visa application, all you need to do is complete the steps outlined above and delete any cookies stored in your browser.
Problems logging in to the Canada Visa website? Are you able to successfully log in?
Even when you have entered the right ID and Password, the CIC/IRCC website will occasionally make it difficult for you to log in by taking you to a screen where you may choose the language, even though you have already logged in. This is a known bug referred to as the GCKey Login Loop. The Canadian Immigration Service has not provided any formal solutions to this problem. Deleting the cookies stored in the browser has proven to be the only solution that is consistently effective in our trials and testing.