You may receive money from CIBC or another bank fast via an Interac e-Transfer. You must first go through a few security checks in order to receive an e-Transfer from your CIBC account. We'll walk you through the steps and provide you a tool to make the process simpler. Continue reading to learn how to ask a contact for money.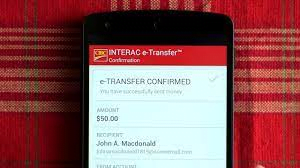 How Can I Get an E-Transfer in My CIBC Account?
The process is actually fairly straightforward, but first you must sign up for the service.
Through CIBC Online or Mobile Banking, you may access your account.
Visit the section for Interac e-Transfer.
You will need to provide your name, active email address, cellphone number, and notification options when you get there.
Enter this data and then choose Next.
To confirm your registration, read the terms and conditions and click "I accept."
You may now take use of all the capabilities offered by CIBC Interac e-Transfer.
You usually receive a notification through email or text message when you receive a CIBC e-Transfer. It will include information on the sender, how much money they are sending, and a link to deposit the transfer into your bank account. The sender has the option to provide a brief message with the transfer if necessary.
You must decide whether to open your account on CIBC Online or Mobile Banking after clicking the link. Sign in to your account and choose Deposit your Interac e-Transfer.
You will then be required to respond to a security question. However, do not be alarmed—this is not from the CIBC! Instead, it is the sender who asks the question; it must be simple to respond to in order for you to get the money.
Finally, just choose the account to which you wish to send the money. That's all there is to it!
How to Make a CIBC Interac e-Transfer Money Request
Requesting an e-Transfer in your CIBC account is another option. This option is located in the same area as the one we previously described. Find the contact you want to request from (or create a new one), enter the requested amount, choose the location for the deposit, and optionally include a message.
Select Send Request after receiving confirmation, then just wait for the sender to accept or reject the request. You will be required to pay $1,50 for each request you make, so be ready.
You can only ask for so much at a time. In contrast to other banking institutions, CIBC allows you to select up to $10,000. You are also limited to 200 e-Transfer requests at once.
Does receiving a CIBC e-transfer cost anything?
We have excellent news, though. When you receive an e-Transfer from CIBC, there is no cost associated with it.
Sign up for an automatic CIBC e-transfer deposit.
You should turn on Autodeposit if you don't want to go through the process again. You may do this to receive money from a CIBC e-Transfer without having to create an account.
pick Autodeposit Settings under Interac e-Transfer, then pick the account you wish to deposit the money into. Review the terms and conditions, accept them, and then complete the registration.
By doing this, whenever someone attempts to transfer money, it will automatically go to the account you choose, saving you the hassle of always having to provide the security question. The sender will not gain anything from this step, though, as they are no longer able to stop the transfer if necessary.