How to Stop a Bank of Baroda (BOB) ATM Debit Card: Steps to Block a Bank of Baroda (BOB) ATM Debit Card Customers with self-operated current, savings, and overdraft accounts receive ATM/Debit cards from Bank of Baroda. The card may be given to one account holder or to all account holders in the case of joint accounts.
Block BOB ATM Card
There are a total of nine cards that can be linked to one card. In Bank of Baroda, there are no fees associated with issuing debit cards. In the event of damage or loss, the bank charges a fee of Rs 200 + service tax to create a new debit card. This article has a full explanation of the numerous methods for blocking the BOB ATM/Debit card.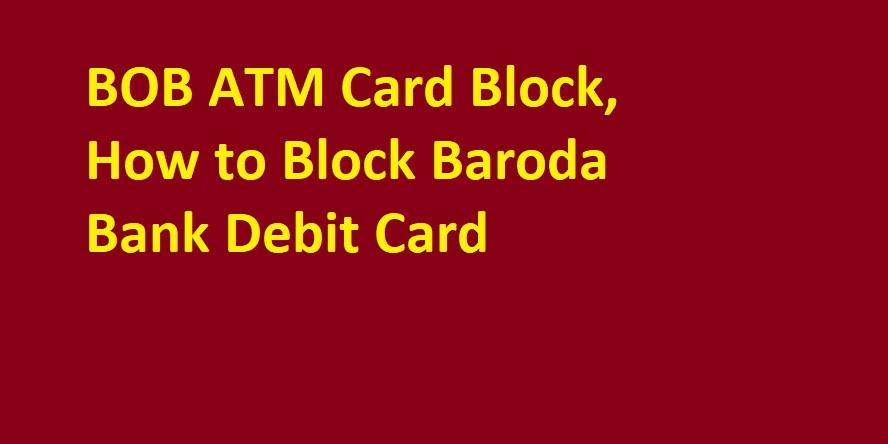 How to Block Baroda Bank Debit Card
Block ATM Debit Card from Bank of Baroda (BOB) Customers of BOB can get their ATM/debit cards Blockd by calling the bank's customer service number. Before blocking the card, the customer service representative initially asks the consumer several security-related questions about his or her card. The following are the toll-free customer service numbers.
BOB ATM Block Number
All the time, these numbers are in use. Customers can therefore ban their cards at any moment, day or night.
Block ATM Debit Card from Bank of Baroda (BOB) By going to the branch, the consumer can go to the Bank of Baroda location where the account is being maintained. Simply inform the concerned authority that the consumer has lost the card. The card would be immediately blocked.
The consumer can use either of the two aforementioned procedures to have the BOB ATM/Debit card stopped in the event of loss in order to stop fraudulent activities. To get their card unblocked, clients are advised to first get in touch with customer service. It is essential to go to the home branch if customer service is unable to fix the problem.
What Should I Do If My Card Is Accidentally Blocked? If the wrong password is entered or if there are any other issues, the ATM/debit card may get blocked. After 24 hours, the BOB card is automatically unblocked. As a result, there is nothing the customer needs to do to unlock it. The consumer can phone the toll-free numbers already listed in the article, though, if the card is still not activated after 24 hours.
Using SMS Banking
You can also block the Bank of Baroda card by sending an SMS. Send an SMS from your registered mobile number in the below format to block the Debit Card.
Type SMS 'Block C XXXX' and send to 9223172141
Type SMS 'Block A XXXX' and send to 9223172141
*XXXX will be the last 4 digits of your Bank of Baroda ATM cum Debit Card in case of 'C' and the last 4 digits of Bank Account Number in case of 'A'.
Example:
Block C 7890 and send the SMS to 9223172141(with card last four digits)
Block A 1234 and send the SMS to 9223172141 (with bank account last four digits)