RTGS Form IOB Online money transfers are quick and easy with Real Time Gross Settlement (RTGS). "Gross Settlement" refers to the processing of payments on an individual basis rather than in hourly slots like that in NEFT, whilst "Real Time" refers to money transfers that are occurring in real time.
IOB RTGS Form
Download the Indian Overseas Bank RTGS Form in PDF format Here.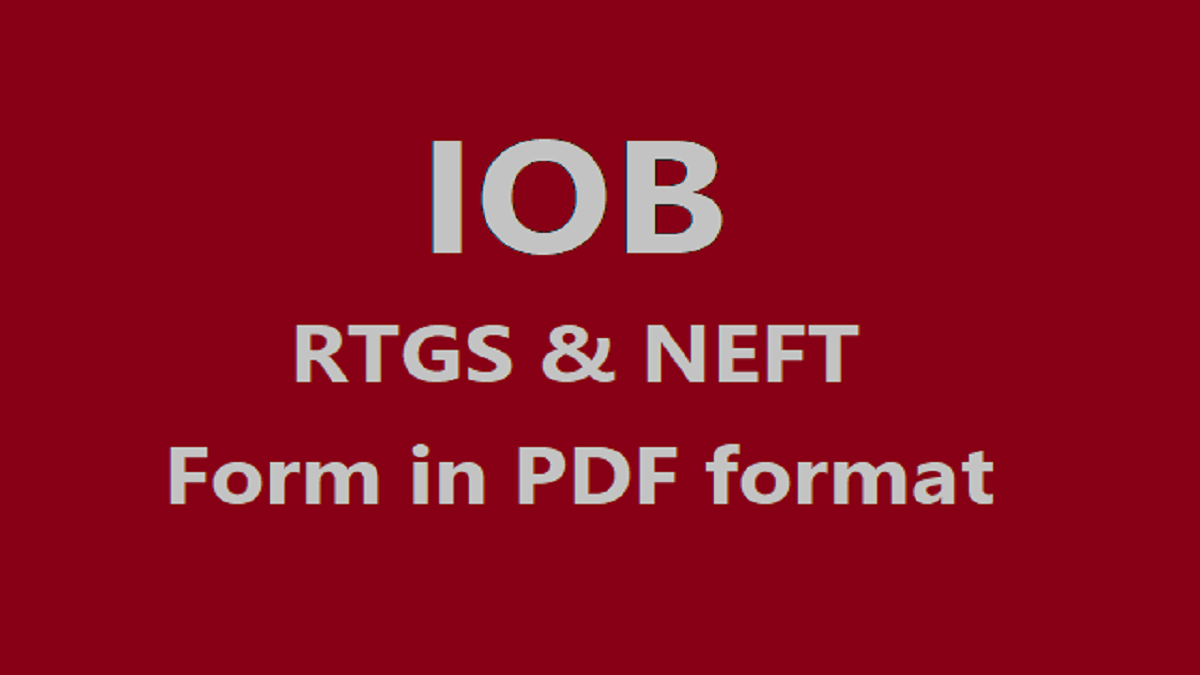 By allowing a single IOB RTGS form to be used to initiate the payment, the bank has simplified RTGS transactions. The IOB RTGS form is also available for download via the banking portal. The minimum and maximum amounts that can be transferred using RTGS each day depend on whether the transaction is completed online or at a bank branch. The minimum value is Rs 2 lakhs.
IOB NEFT Form
Download the IOB NEFT Form in PDF format Here.
The IOB RTGS form requires the following information to be entered:
Amount that must be sent
Name and IOB branch code
supplementary fees or commission
The sender's name and contact information, including address, phone number, and email address
Name, bank name, and branch address of the beneficiary
The kind of beneficiary account (savings, current or credit card)
IFSC code, cellphone number, and beneficiary account number
Whether the transferred funds should be transferred in cash, through check, or by direct bank account debit.
The account type and account number if the money is being deducted from a bank account, or the cheque number if it was paid by check.
With the IOB RTGS form, the sender may also send the recipient a brief note.
After submitting the form and depositing the funds, the sender will receive an acknowledgment slip. If the transaction is delayed, the sender can file a complaint with IOB customer care or even escalate the matter to the Reserve Bank of India's grievance department.
Modern electronic money transfer technology known as RTGS is directly supervised by the Reserve Bank of India. Due to this, once a payment has been completed successfully—that is, the money has been placed into the beneficiary's bank account—it cannot be undone; the settlement happens right there in the RBI's books of records.
Indian Overseas Bank RTGS/NEFT Webpage of official interest: https://www.iob.in/Contactus