Digital banking services enable Bank of Baroda to offer a wide range of practical and client-focused services. Account holders can use the missed call feature, SMS banking, and mobile banking to access the Bank of Baroda mini statement service.
Customers can check details about recent transactions made from their BOB savings account, current account, etc. through the Bank of Baroda mini statement service. The bank offers this service in a variety of ways. Customers and users of this service must register with the bank by going to a branch or using mobile banking. Let's go over the many ways to access a Bank of Baroda mini statement in more detail.
Let's quickly go over all the methods an account holder can see their BOB mini statement. It should be mentioned that you need to get your cellphone number registered at the bank to use any of these services.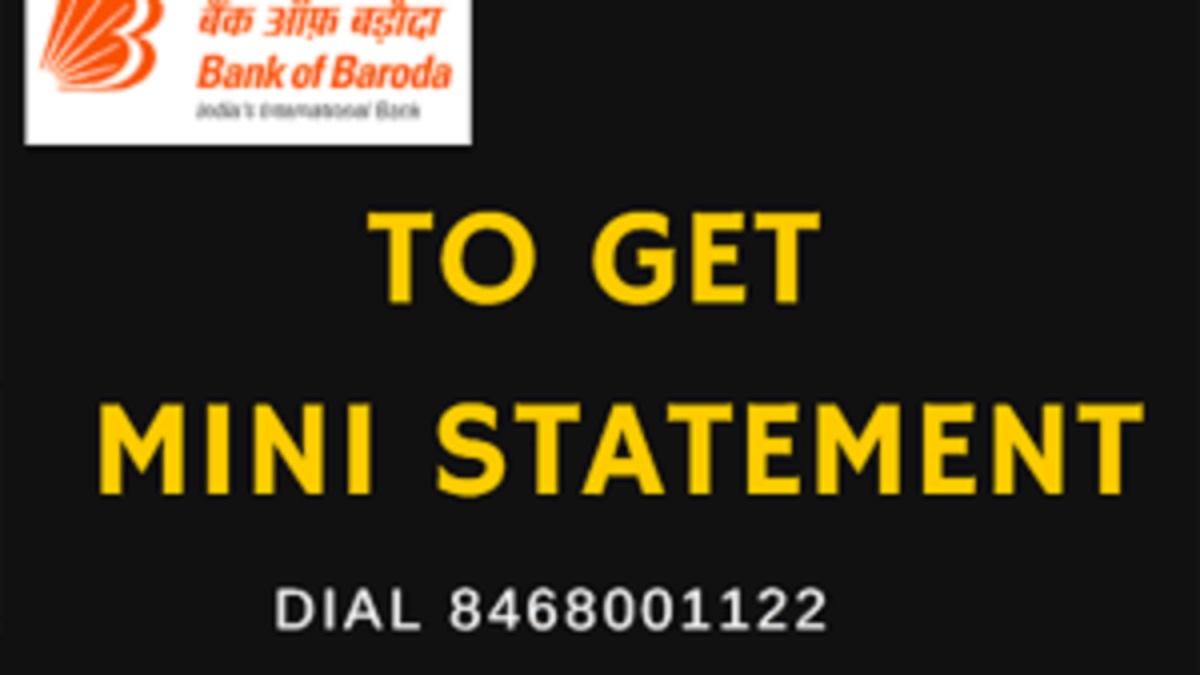 BOB Mini Statement through Missed Call Banking
By just placing a missed call from your registered mobile number to the following number, you can use this service to view your mini statement promptly.
8468001122
• The feature can be utilised by consumers three times a day.
• This is the simplest way of checking recent transactions utilising mobile.
Bank of Baroda Mini Statement by SMS Banking
To acquire your mini statement via SMS banking service,
you can message 'MINI'<space>last 4-digits of a/c no to
8422009988
• Immediately following the SMS's transmission, you will receive a text message with information on your most recent transactions.
• By utilising this service, you receive a list of the five most recent transactions.
BOB World Internet For Bank Of Baroda Mini Statement
BOB has provided its very own net banking platform, which enables customers with an internet connection to transfer funds, check account balances, read mini statements, and other functions.
You must enter your customer ID and password in order to log in.
Go to "Account Information" after that to see your most recent transactions.
Please keep in mind that you must register for internet banking at the bank branch if you wish to utilise the bod Global Net Banking service.
Mini Statement through BOB Mobile Banking Apps
BOB has also made its Baroda bob Global mobile banking application available for download from the Apple App store or Google Play store.
You'll need to enter your User ID and MPIN in order to sign in to this app.
This software provides quick access to practically all banking services, including checking account balances, seeing mini-statements, paying off credit card balances that are still owing, viewing account statements, transferring money via IMPS, RTGS, or NEFT, and many more.
Bank of Baroda ATM for BOB Mini Statement
Obtaining the BOB mini statement from the closest ATM is another simple option to examine BOB mini statements. You can use any bank's ATM,
Enter your 4-digit PIN, and obtain a small statement; you are not required to exclusively use BOB ATMs.
To avail Bank of Baroda mini statement, give a missed call to –
8468001122
The steps listed below can be used by users to obtain the Bank of Baroda mini statement:
Customers must call 8468001122 in order to request a small statement from Bank of Baroda.
The system will verify to see if the call originated from the registered number before automatically terminating the call.
The Bank of Baroda Mini Statement will be sent to the consumer via SMS (recent transactions including debit and credit both).
The system will determine if the consumer has registered the desired account number if the customer has registered the same mobile number with several Bank of Baroda accounts. Customers who have not registered their preferred account number will receive a notification through SMS to do so in order to use the account-specific services.
How to Register Mobile Number for Bank Of Baroda Mini Statement?
The user must write down their account number and send an SMS to the bank in order to register their mobile number for the Bank of Baroda Mini Statement. The SMS structure is listed below:
REG <space> last 4 digits of account number to
9176612303 (Normal Charges) / 5616150 (Premium Charges)
How to Use SMS Banking to Request a Bank of Baroda Mini Statement
By using SMS, the account holder can also get a Bank of Baroda mini statement. The users can take the following actions:
Step 1: Account holders must send the following SMS to receive Bank of Baroda Mini Statements.
MINI <space> last 4 digits of account number
Step 2: Send the SMS to 8422009988
Step 3: Account holder will receive Bank of Baroda Mini Statement by SMS which consists of the last 5 transactions (both debit and credit).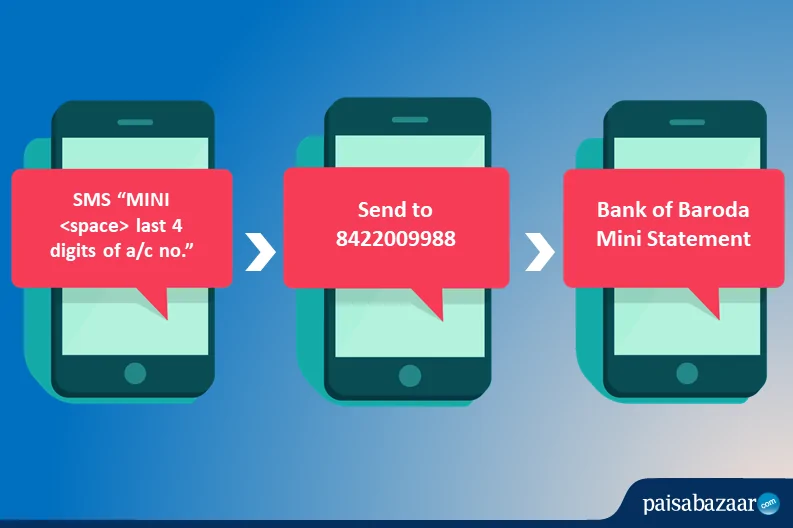 'DEACT <space> last 4 digits of the account number'
to
8422009988
How to Get a Mini Statement from Bank of Baroda Using Mobile Banking
The methods to obtain a Bank of Baroda Mini Statement using Bank of Baroda Mobile Banking are as follows:
Step 2: Get the Baroda M-Connect Plus app from the Apple App Store or Google Play store.
Step 2: Sign up using Bank of Baroda's online banking system or an ATM.
Step 3: Access the mobile banking app for Bank of Baroda.